Among the 60+ speakers at the 3-day event were Sten Tamkivi, Chief Evangelist of Skype; Mark Rolston, Chief Creative Officer at Frog Design; and Martin Geddes, Head of Strategy for BT Design.

Stefan Agamanolis (second from right) poses with other award winners at eComm Europe 2009.
Photos Copyright 2009 James Duncan Davidson
24 September 2009
Lost Values wins "Best Use of Materials" award at 100% Design London
Distance Lab's first spin-off company, Lost Values, founded by Elena Corchero, received the "Best Use of Materials" award at 100% Design, the UK's leading architecture and design event showcasing everything for the modern building and interior. The company unveiled its new line of reflective accessories that combine safety with fashion as part of the The Bike Feature, a special exhibition bringing together creativity in the emerging world of bike design and bike culture. The awards were hosted by Blueprint Magazine.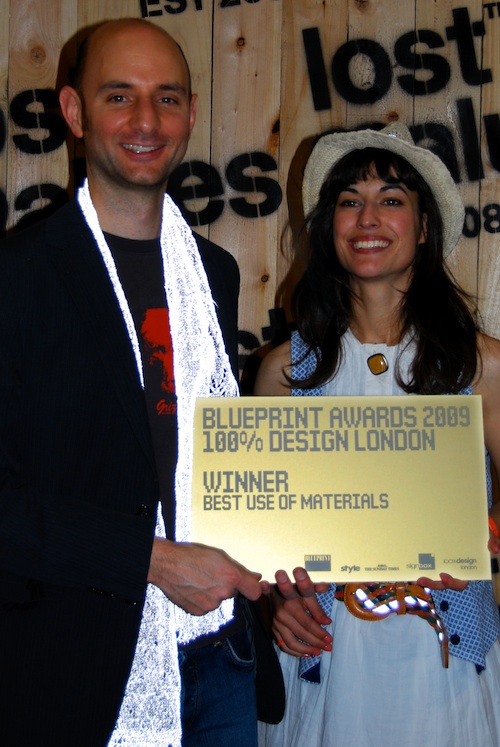 Distance Lab Chief Executive, Stefan Agamanolis, and Lost Values Founder and Director, Elena Corchero.
27 July 2009
Lost Values wins £10,000 Starter for 6 grant
Lost Values, the company started by Distance Lab researcher Elena Corchero, has been awarded a £10,000 grant from Starter for 6, an enterprise training programme that supports up-and-coming creative entrepreneurs across Scotland. In all, 27 innovative start-ups were successful at pitching for grant awards of up to £10,000.
This year, the programme has supported 68 early stage innovative businesses in science, technology and creative industries across Scotland. Following intensive business training, coaching and showcasing opportunities, the programme culminated with 68 participants pitching to panels in Glasgow, Edinburgh, Inverness and Aberdeen over the last 3 weeks. Programme support and judging included representation from NESTA, Cultural Enterprise Office, ICASS, Scottish Arts Council, Highlands and Islands Enterprise, Go Group, PSYBT, Royal Society of Edinburgh, Marks & Clerk and Murgitroyd & Co.
2 July 2009
Mutsugoto exhibited in Alt-win.ing event in Glasgow
Distance Lab's Mutsugoto project was exhibited in the Alt-win.ning event hosted by Cryptic Nights at CCA in Glasgow. The event was a celebration of New Media Scotland's 10th birthday and included new work created and curated by Alt-w Fund supported artists Thomson & Craighead and Sarah Kettley as well as Distance Lab, with new writing by Netwurker Mez and Hannu Rajaniemi, choreography by Sue Hawksley and music by Peter Gregson.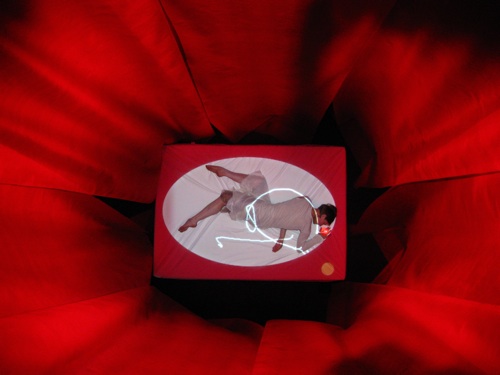 20 June 2009
Costas Bissas participates in Glasgow Social Innovation Camp
Distance Lab researcher Costas Bissas participated in the Social Innovation Camp, a weekend event that brings together talented software developers and designers with social innovators to build effective web-based solutions to real social problems. Over 60 people participated in the event, which was held at the Saltire Centre in Glasgow.
Costas was part of a team that developed Flock Local, a web site that matches short-term volunteers with one-off local activities, which won an honourable mention from the judges at the event.
Visit the Flock Local web site...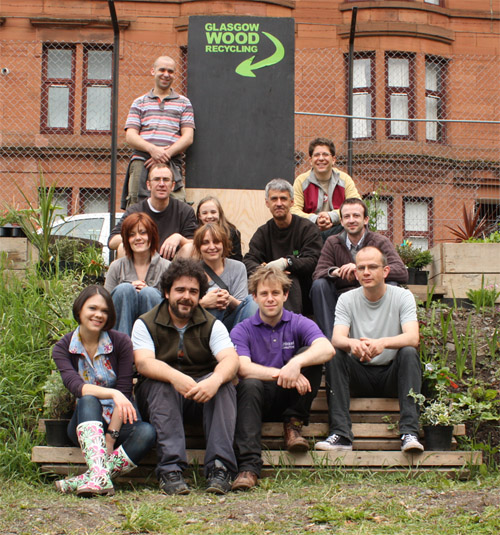 10 June 2009
Distance Lab holds Open Studio event entited Social TechStyles
The themes of Distance Lab's fifth and largest yet Open Studio event were social computing and smart textiles. In particular the event explored the intersection of these domains and ways that technology is becoming "softer", enabling a new class of interactions over a distance.
The special guest speaker at the event was Karrie Karahalios, an assistant professor in computer science at the University of Illinois where she heads the Social Spaces Group. Karrie surveyed her rich portfolio of work in social computing systems, which included experiments for integrating social catalysts into the design of interfaces for connecting spaces over a distance using audio and video.
Distance Lab researcher Elena Corchero launched Lost Values, her new spin-off company and online boutique that is marketing products developed by her at the Lab. Also, research fellows Hannah Perner-Wilson and Mika Satomi described their work reducing the distance between producer and consumer in the domain of wearable technology.
The event included "open studio" time during which attendees could view project prototypes and interact directly with Distance Lab researchers.
The event was followed by an evening gathering at a local seafood pub where interesting discussions continued. The following morning, a number of guests from the event gathered at the Lab to share their work and experience in informal and interactive presentations.
8 June 2009
Distance Lab launches spin-off company and online boutique
PRESS RELEASE
Highlands research institute launches first spin-out company
Moray-based digital media research institute, Distance Lab, is to officially launch its first commercial spin-out company at their Open Studio event on 10 June, at Horizon Scotland in Forres.
Lost Values Limited, founded and directed by fashion designer Elena Corchero, combines technology and traditional craft techniques to recapture values that have been lost over time. Her products include fashion garments, handmade gifts and keepsakes. "As we move faster and technology becomes part of our everyday existence, remembering our human side becomes a great source of inspiration", explains Ms Corchero. "Our unique products bridge the distance between traditional craft techniques and materials and modern technology". Stimulating the interest of females in science and technology is key to many Lost Values products, especially the range of solar-powered fashion accessories, and educational science and electronic craft kits for children.
Ms Corchero has been working as a Senior Research Associate at Distance Lab for the last 2 years, where she has developed her product portfolio. Distance Lab was set up in 2007, by Highlands and Islands Enterprise, to stimulate and grow a thriving technology research base in the region and contribute to economic development. "Starting high-growth businesses in the region is a key strategic aim of Distance Lab and HIE - and we are delighted to be celebrating our first start-up", stated Chris Moule, the Lab's Commercial Director, "We have been working hard with Elena to support her with her ambitions, raise her profile internationally and equip her with the business skills to build a sustainable successful venture".
Commenting on her time at Distance Lab, Ms Corchero said, "Distance Lab has provided me with the knowledge, expertise and confidence to start my own company. The inspiration I get from collaborating and sharing ideas with other researchers in such a unique environment is the driving force behind Lost Values. I hope to continue to work with them and other similar creative people in the future to grow the business". Lost Values products that will be on sale at the Open Studio event include a range of kids' craft kits that combine simple electronics with textiles, and handmade his-and-her badges, called U&V, that change colour in the sun to highlight the problems of climate change.
Distance Lab's Open Studio, on Wednesday 10 June, titled Social TechStyles, is focusing on social computing and smart textiles, to demonstrate how the Lab is developing softer technology to aid various interactions over a distance. Special guest speaker for the event, Karrie Karahalios, an assistant professor from the University of Illinois at Urbana-Champaign, will be giving a talk entitled Visualising Voice, discussing interactions people undertake in networked, electronic spaces.
Visit the Lost Values online boutique...
25 May 2009
Strathclyde marketing students win top prize for study of Distance Lab
A team of students from the Masters programme in International Marketing at the University of Strathclyde Business School won 1st place in the "Marketing Works" project competition for their report on Distance Lab. Distance Lab congratulates the team - Mathilde Ramon, Qiyin Huang, Kuei-Ping Lee, and Ankit Nahata - and hopes to work with them again in the future!
15 May 2009
Stefan Agamanolis gives talk at Futuresonic
Distance Lab's Chief Executive and Research Director, Stefan Agamanolis, gave a talk at Futuresonic 2009 in Manchester as part of the Social Technologies Summit, a leading international conference that brings together 500 opinion formers, futurologists, artists, researchers and technologists to explore the latest upgrade affecting today's digital culture. His talk, entitled "Getting Over The Communication Burger" focussed on Distance Lab's activities in the realm of Slow Technology and Slow Communication, including Mutsugoto, Solar Vintage, and Remote Impact. Other speakers at the event included Rachel O'Connell (Bebo); Adam Greenfield (Nokia), Tom Ilube (Garlik), and Stowe Boyd.

Photo courtesy of Charlie Hope

Photo courtesy of pezzab
1 May 2009
Discovery Networks shoots piece on Mutsugoto
A Los Angeles-based crew from the Discovery Science Channel spent the day in Edinburgh filming a piece on Mutsugoto that will air later in 2009 in a series called "THE FUTURE OF...". Interviews with project collaborators Tomoko Hayashi and Stefan Agamanolis will appear within the piece. Edinburgh-based dancer/actors Jack Webb and Sabine Klaus were also filmed for the piece, taking on the role of a couple separated by distance that uses Mutsugoto.
21 April 2009
BBC article on Mutsugoto becomes most read story worldwide
The BBC article entitled "Couples to test 'intimacy' device" became the most read story worldwide on the BBC News web site today. The article drew over 800,000 hits in the first two days. The article covers Distance Lab's Mutsugoto project and the search for long-distance couples to test it later in 2009 as part of the Alt-W Production Award presented by New Media Scotland.
8 April 2009
Mutsugoto to appear in Edinburgh Art Festival
Thanks to an Alt-W Production award, Mutsugoto will be appearing in the Edinburgh Art Festival this August. One of the two locations for the Mutsugoto installation will be at InSpace, a new exhibition space associated with the Edinburgh School of Informatics.
In addition, Distance Lab and New Media Scotland are looking for three couples in long distance relationships where one partner lives in the vicinity of Edinburgh and the other at least 250km away. The couples would have the opportunity to use Mutsugoto and must be available in July, August or September. For further information and to express an interest in participation please email mutsugoto@mediascot.org. Additional information...
A new Mutsugoto web site has been launched that describes the project and these activities in greater detail.
2 - 5 April 2009
Remote Impact featured at NEXT in Denmark
A new version of Distance Lab's "boxing over a distance" prototype, Remote Impact, was invited to be installed at this year's NEXT event, also known as the "Nordic Exceptional Trendshop", held in Aarhus, Denmark. Over 6000 trend setters and trackers were expected to attend the exhibition over the four days of the event, which showcases innovative technology and design projects drawn from research labs, startups, and R&D facilities from around the globe. Distance Lab's Chief Executive Stefan Agamanolis gave a talk during the conference portion of the event, highlighting Distance Lab's work in "sports over a distance".
Articles mentioning the talk and exhibit:
"Kicking an ass 4000 miles away", by Ronni Tino Pedersen
Photos from the event...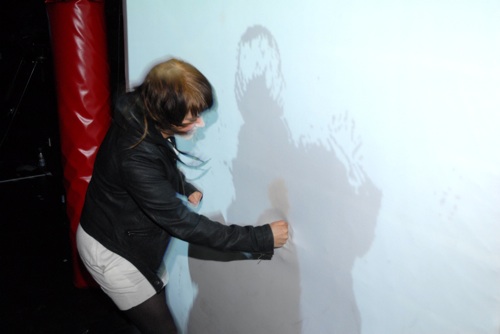 19 March 2009
Distance Lab mounts project showcase in Glasgow
Distance Lab today held a major event in Glasgow entitled "From Research to Reality" to showcase it's latest prototypes and demonstrations.
The evening commenced with an introduction from Willy Roe, Chairman of Highlands and Islands Enterprise. Distance Lab's founder and Research Director, Stefan Agamanolis reported on hot trends in communication and connectedness that are doing battle with distance in unexpected ways. The event was held "Open Studio" style with a focus on interactive project demonstrations, discussion, and networking between Distance Lab researchers and atteendees from a broad variety of backgrounds.
The event was hosted by New Media Scotland, a national development agency fostering artist and audience engagement with all forms of new media practice. It was held at The Lighthouse, Scotland's Centre for Architecture, Design and the City. Over one hundred attendees filled the event to capacity.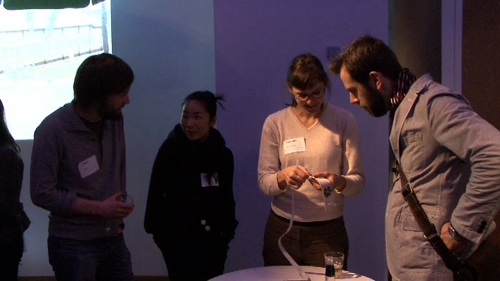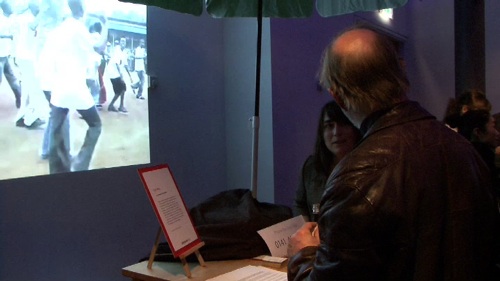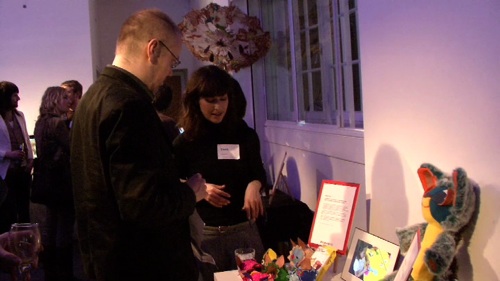 11 March 2009
Florian 'Floyd' Mueller receives prestigious Fulbright Scholarship
Florian 'Floyd' Mueller, former Distance Lab Research Fellow and current Project Advisor, has been awarded a prestigious 2009 Fulbright Postgraduate Scholarship in Technology and Communications. Floyd is a figurehead in Distance Lab's "Sports over a Distance" work and will be advancing his research on "exertion interfaces" as part of the scholarship.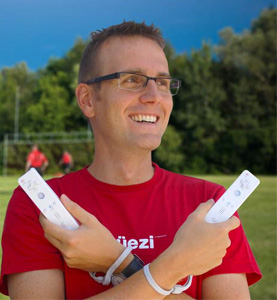 5 March 2009
Stefan Agamanolis delivers major talk at eComm 2009 in San Francisco
Distance Lab's Chief Executive and Research Director, Stefan Agamanolis, was invited to give a talk entitled "Slow Communication" at eComm 2009, the world's leading-edge telecom, Internet communications and mobile innovation event built to both showcase and accelerate innovation and to explore radical new opportunities. Held in San Francisco, the event was an important opportunity to expose the work and capabilities of Distance Lab to a high-profile international audience.
Other speakers at the event included Ge Wang, Co-founder of Smule; Mark Rolston, Chief Creative Officer at Frog Design; Benjamin Joffe, CEO of +8*; and Martin Geddes, Head of Strategy for BT Design.
Articles mentioning Stefan's presentation:
"Why you needed to be at eComm 2009", by Jon Arnold (also "eComm 2009 - Day 3")
"eComm - A Great Place", by Jan Linden

Photo Copyright 2009 James Duncan Davidson
26 February 2009
Distance Lab researchers accepted into Starter for 6
Two Distance Lab researchers were accepted into Starter for 6, an enterprise training program led by NESTA that supports up-and-coming creative entrepreneurs across Scotland. Senior Research Associate Elena Corchero and Research Fellow Hilary Grant will be engaging in a programme of business training and coaching during 2009 and will later have the chance to pitch for grants of up to £10,000 to help take their business ideas forward.
21 February 2009
Elena Corchero receives special commendation in the UK Young Fashion Entrepreneur Competition
Distance Lab researcher Elena Corchero received a judges' special commendation in the British Council's UK Young Fashion Entrepreneur Awards 2009. The awards were announced at a presentation today as part of London Fashion Week. Earlier Elena was selected as one of 6 finalists and had the opportunity to travel to India to meet with industry leaders and learn about India's vibrant fashion industry.
The UK Young Fashion Entrepreneur Award is one of nine awards for young creative entrepreneurs developed by the British Council with support from NESTA (National Endowment for Science, Technology and the Arts) and the cultural leadership programme. Over 30 fashion innovators were nominated for this year's award. Judges evaluate each candidate on their entrepreneurial ability, leadership skills, market awareness, originality of ideas and international outlook.
Nottingham's Simeon Hartwig was the winner of the competition this year. The award was presented by renowned fashion journalist and commentator Hilary Alexander.

From left to right: Elena Corchero, Simeon Hartwig, Hilary Alexander
26 January 2009
Distance Lab and Centre for Rural Health win £62,845 CHSS grant
PRESS RELEASE
New research to help rural sufferers of lung disease
The Centre for Rural Health in Inverness, and Distance Lab, a digital media research institute based at Horizon Scotland in Forres, are to work together to develop a new communication system that will enable suffers of chronic lung disease to participate in group rehabilitation exercises in the comfort of their own homes. The research has been funded by a £63,000 grant from Chest, Heart & Stroke Scotland (CHSS).
Chronic Obstructive Pulmonary Disease (COPD) - which includes lung diseases like chronic bronchitis and emphysema - is one of the most common respiratory diseases in the UK, affecting at least 900,000 people. Rehabilitation groups led by therapists can improve symptoms and quality of life for patients, but may not be accessible to people living in more remote places. In the Highlands of Scotland there are over 4,500 people with COPD, of whom almost half live in the most peripheral general practice areas, remote from specialist clinic facilities. Travel demands means that many patients are unable to attend exercise groups.
The grant will be used to develop and trial a system that will enable patients to undertake rehabilitation exercises in a group from their own homes via the internet, through the use of a novel video-conferencing system.
Professor David Godden from the Centre for Rural Health, said: "Evidence shows that being in a group setting and performing the exercises together with other patients gives sufferers much needed support and improves their outcome. This project will investigate how to use Internet-based communication to maintain this group effect while patients participate in exercises in their own homes".
The 18 month project, due to commence in February, will investigate the feasibility of a rehabilitation programme being delivered over a distance using internet-based audiovisual communication and explore ways in which to enhance the patient's experience through interactive design, visualisation and physiological monitoring.
"We are delighted to have been awarded this grant in partnership with the Centre for Rural Health" Dr Stefan Agamanolis, chief executive of Distance Lab said. "Digital media technology is creating incredible opportunities for rural health service delivery and empowering remote patients to take ownership of their health care".
The grant was awarded by Chest, Heart & Stroke Scotland (CHSS), a Scottish-based charity which provides care and support for people and families affected by lung disease, and funds research into prevention, diagnosis, treatment, rehabilitation and the social impact of chest, heart and stroke illness.
CHSS chief executive David Clark said, "We are delighted to fund this project which uses internet-based technology to support patients in their own homes. We are always interested in funding research, which has a direct impact on patients' lives throughout Scotland, including rural and remote areas such as Highland. We very much look forward to the results of this study."
Professor Godden concludes, "This project addresses an important therapy for people with a debilitating lung disease. It examines the use of communication technology that will widen the availability of services and improve the quality of life for people regardless of their location or their ability to travel to hospitals for treatment".
8 - 18 January 2009
Mutsugoto featured in Singapore Fringe Festival
Mutsugoto was exhibited at the Singapore Fringe Festival. The project was installed in the Arts House Foyer. Tomoko Hayashi and Stefan Agamanolis gave an artist talk at Sinema at Old School on 8 January 2009.