Distance Lab news and announcements from 2008...
28 November 2008
Loopin frenzy at Distance Lab
Students from local schools participating in a Distance Lab workshop built Loopins - innovative DIY soft toys that combine textiles with simple electronics. Invented at Distance Lab, the eyes of the toy light up when its ears touch together. The workshop was held as part of the Fresh Horizons day organised by Going Nova, which published a report and photo gallery of the event on their web site.
The Press and Journal covered the event in an article entitled "Secondary pupils reach for new horizons".
13 November 2008
Distance Lab holds Open Studio event focused on Slow Technology
The theme of Distance Lab's fourth major Open Studio event was Slow Technology, an extension of notions from the "slow food" movement into the design of new technologies. Instead of speed and efficiency, slow technology emphasises the quality, locality, and humanity of the total experience.
The special guest speaker at the event was Glorianna Davenport, head of the Media Fabrics group at the Massachusetts Institute of Technology (MIT) Media Lab. She framed her work within the "slow" theme, setting out a vision for "slow stories", a new class of stories enabled by the agility of computer networks and their associated technologies.
Distance Lab researchers Costas Bissas and Tomoko Hayashi described neuromantic, a exploratory project that aims to encourage rural modern life through the use of new technologies without altering the authenticity of the environment, local uniqueness and resources.
The event included "open studio" time during which attendees could view project prototypes and interact directly with Distance Lab researchers.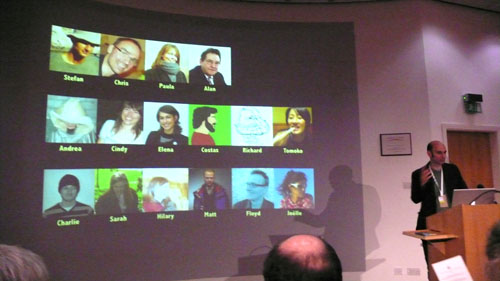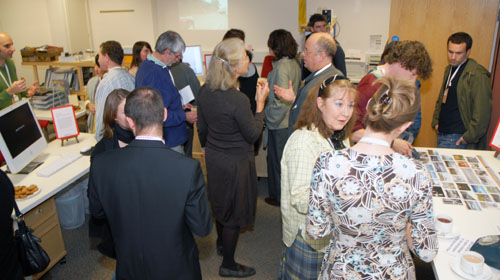 The event was followed by an evening gathering at a local seafood pub where interesting discussions continued. The following morning, a number of guests from the event gathered at the Lab to share their work and experience in informal and interactive presentations.
6 November 2008
Remote Impact shortlisted for European Innovative Games Award
Distance Lab's innovative "boxing over a distance" game, Remote Impact, was among 11 new titles shortlisted for the European Innovative Games Award 2008. Other titles shortlisted included Konami's Pro Evolution Soccer 2009 and Nintendo's Wii Fit. A total of 77 games were nominated for the award from throughout the European Union.
3 November 2008
Elena Corchero selected as finalist for UK Young Fashion Entrepreneur Award
Distance Lab researcher Elena Corchero has been selected as a finalist in the British Council's UK Young Fashion Entrepreneur Awards 2009. As part of the award she will be touring India, along with the five other finalists, to meet with industry leaders and learn about India's vibrant fashion industry. The winner will be announced at a presentation to be held during February's London Fashion Week.
The UK Young Fashion Entrepreneur Award is one of nine awards for young creative entrepreneurs developed by the British Council with support from NESTA (National Endowment for Science, Technology and the Arts) and the cultural leadership programme. Over 30 fashion innovators were nominated for this year's award. Judges evaluate each candidate on their entrepreneurial ability, leadership skills, market awareness, originality of ideas and international outlook.
19 October 2008
Distance Lab featured in Sunday Times article
Distance Lab was the topic of an article in the Scottish Sunday Times entitled "How you can feel the love across thousands of miles", by Rachel Devine and Jenny McBain. Mutsugoto and Remote Impact were among the projects featured.
24 - 26 September 2008
Stefan speaks at PICNIC 08 in Amsterdam
Distance Lab's Chief Executive and Research Director, Stefan Agamanolis, gave an invited talk entitled "Dueling with Distance" at PICNIC 08, Amsterdam's leading annual international event highlighting creativity and innovation, particularly in media, entertainment and technology. He also spoke and participated in a debate in the Hot100 session for up-and-coming creative media talent of the Netherlands. He also gave a talk at the Mastermundo 2008 Creative Conference in The Hague on 27 September.
Articles about Stefan's presentation:
"Slow Food movement, Slow Technology movement", by Monique
"Stefan Agamanolis: Pour des technologies lentes", by Hubert Guillaud (English Translation)
"PICNIC '08, part three...", Daniël van Gool
"Agamanolis wants to get rid of the communication burger", Ernst-Jan Pfauth
"A Picnic Sampler", Sonja van Kerkhoff
19 - 30 September 2008
Elena mounts solo exhibition in Barcelona
Elena Corchero presented her Solar Vintage collection, including a number of new jewellery pieces created in collaboration with Richard Wilson and Hilary Grant, at a solo exhibition at the G de Joyas Gallery in Barcelona.
13 September 2008
Distance Lab wins £5000 Alt-w Production Award
Distance Lab has won a £5000 Alt-w Production Award for Mutsugoto, an experimental body-drawing communicator intended for partners who are separated by distance. The project was created by Tomoko Hayashi, Stefan Agamanolis, and Matthew Karau. The award will support further development of Mutsugoto leading up to several exhibition engagements in the next year. The distribution of Alt-w awards is managed by New Media Scotland and funded by Scottish Screen and the Scottish Arts Council.
11 - 15 August 2008
Distance Lab projects presented at SIGGRAPH
Two Distance Lab projects, Mutsugoto and Remote Impact, were accepted and presented as posters in Los Angeles at the ACM SIGGRAPH 2008 Conference on Computer Graphics and Interactive Techniques.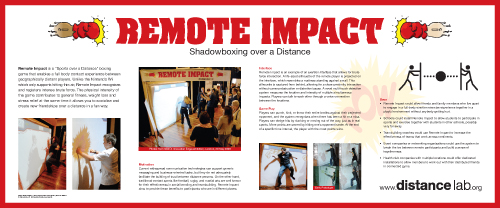 23 - 25 July 2008
Digital High Fives created in Madeira workshop
Distance Lab ran a High Five workshop as part of the CMU Portugal Madeira Summer Academy in HCI at the Madeira Tecnopolo on the island of Madeira in Portugal. In addition to high fives, participants also created networked computer interfaces for squeezing hands, making puppets dance, and blowing out birthday candles over a distance.
The BBC covered the workshop in an article entitled "Blowing out candles from far away".
28 June 2008
Distance Lab featured at CittaSlow conference
Costas Bissas and Stefan Agamanolis gave a presentation about Distance Lab at the International Cittaslow Assembly in Orvieto, Italy. Leaders from "slow" cities and towns around the world heard about the Lab's research endeavours in "slow technology" and "slow communication", and how they could transform a visitor's experience of a town and improve quality of life for residents. Representatives from CittaSlow UK were also present.
24 June 2008
Remote Impact presented at CREATE 2008 Design Showcase in London
Distance Lab's "boxing over a distance" project, Remote Impact, was accepted to and presented at the CREATE 2008 Design Showcase at the British Computer Society in London.
1 - 8 June 2008
Distance Lab collaborates with MIT to exhibit Urban Pixels for the first time
Susanne Seitinger and Danny Perry from the MIT Media Lab collaborated with Richard Wilson of Distance Lab to present the first ever public exhibition of Urban Pixels, a system of programmable lighting units that can be used to create new effects that blur the boundary between urban lighting and display. The pixels were installed on a facade at the Eden Court Theatre in Inverness. Theatre-goers and passers-by were able to interact with the display by sending texts with their mobile phones or by waving a flashlight on the facade.
29 May 2008
BBC goes Inside Distance Lab
An article entitled "Inside Distance Lab" authored by Steven McKenzie appeared online on the BBC today. The article covers a number of recent projects including Solar Vintage and Remote Impact. The article includes a great video of Stefan Agamanolis fighting Costas Bissas in Remote Impact.
29 May 2008
Distance Lab holds third Open Studio event
Machined Craft and Haute Tech featured as themes at the third major Open Studio event at Distance Lab.
Keynote speakers included Peter Schmitt and Di Mainstone. Schmitt, a PhD candidate in the Smart Cities group at the MIT Media Lab, discussed his work which is pushing the limits of digital fabrication techniques for applications ranging from car design to artistic production. Mainstone, a fashion designer from London, presented a selection of her work in the field of interactive fashion.
The event included "open studio" time during which attendees could view project prototypes and interact directly with Distance Lab researchers.
29 May 2008
Elena Corchero designs solar crown for Barcelona jewellery competition
Elena Corchero created a new accessory as part of her Solar Vintage collection: a crown to be awarded to the 2008 winner of the Enjoia't Contemporary Jewellery Competition in Barcelona. Elena won this prize in 2007.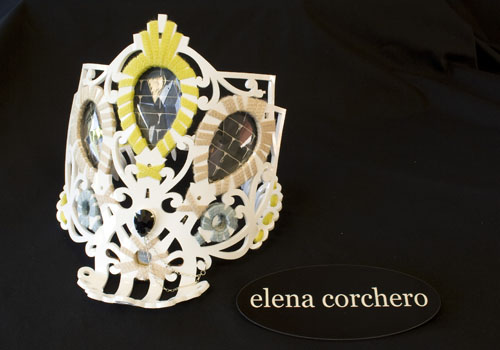 20 May 2008
Remote Impact makes debut at major London event
A new and improved version of our latest "Sports over a Distance" prototype Remote Impact was showcased today in the exhibition at NESTA's Innovation Edge conference at the Royal Festival Hall in London. Featured speakers at the event included Sir Tim Berners-Lee, Prime Minister Gordon Brown and activist/rock-star Bob Geldolf.
25 April - 25 July 2008
Solar Vintage featured at Science Gallery, Dublin
One of the dresses from Elena Corchero's Solar Vintage collection was featured in an exhibition entitled Technothreads at the Science Gallery in Dublin, Ireland. Click below for video highlights from the exhibition...
7 April 2008
Floyd gives Remote Impact talk at CHI 2008
Florian 'Floyd' Mueller delivered a presentation about Remote Impact in the Interactivity track at the ACM CHI 2008 Conference on Human Factors in Computing Systems in Florence. During the Interactivity exhibition, conference attendees could punch and kick a miniature version of the Remote Impact interface. Read the extended abstract as it appeared in the conference proceedings.
6 April 2008
Exertion Interfaces workshop at Florence conference
Remote Impact, Distance Lab's "boxing over a distance" game, was among the many projects and themes discussed in a workshop on Exertion Interfaces, led by Distance Lab's Florian 'Floyd' Mueller and Stefan Agamanolis at the ACM CHI 2008 Conference on Human Factors in Computing Systems in Florence.
Floyd and Stefan were interviewed about the workshop by Italian journalist Luca Chittaro - read the article here.
28 February 2008
Remote Impact covered on BBC web site
An article about Distance Lab's Remote Impact project appeared today on the BBC online news web site: "Life-size fighting game showcased"
26 - 29 February 2008
Solar Vintage exhibited in Milan Fashion Week
Solar Vintage was featured in the MICAM ShoEvent at the Fiera Milano Rho exhibition centre in Milan.
24 February 2008
Floyd discusses Exertion Interfaces in Dorkbot event
Florian 'Floyd' Mueller described Distance Lab projects on the themes of Exertion Interfaces and Sports over a Distance, including Remote Impact and Jogging over a Distance, at a Dorkbot Melbourne event.
01 February 2008
New journal article explores interactive TV
A new article by Stefan Agamanolis entitled "At the Intersection of Broadband and Broadcasting: How Interactive TV Technologies can Support Human Connectedness" appeared in the February 2008 issue of the International Journal of Human-Computer Interaction. The article discusses projects from Distance Lab as well as Stefan's earlier Human Connectedness research group.
30 January 2008
Solar Vintage selected for Boston cyberfashion event
Solar Vintage was featured in SEAMLESS 2008, a fashion event featuring innovative and experimental works in computational apparel design, interactive clothing, and technology-based fashion.
Click below to watch a video about the event: