Solar Vintage
a collection of solar powered decorative accessories for the eco-fashion-minded consumer
Elena Corchero
This collection of fashion accessories explores delicate ways of incorporating solar cells into textiles in which technology meets tradition. Ornate accessories like a handheld fan and a parasol are charged while used outdoors during the day. When brought indoors in the evening they transform into a decorative ambient light display for the home, powered only by energy stored earlier.
The Solar Vintage collection explores mobile power generation from an haute couture perspective. Energy can be captured passively in an eco-friendly way while the user engages in daily life outdoors and at a distance from traditional power sources.
Electronic components like solar cells, resistors, and LEDs are integrated directly into antique and hand-embellished fabrics and wired together into working circuits using conductive thread. Organic prints and embroidery motifs recall endangered birds.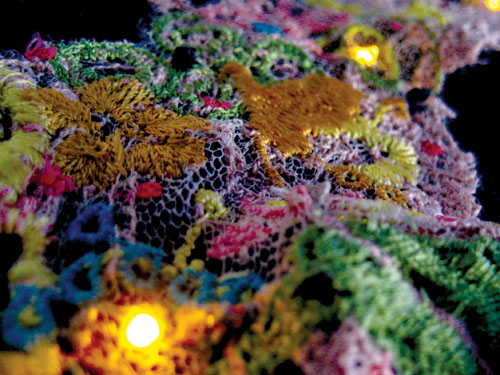 The materials used in each piece were selected with environmental sensitivity in mind. For example, the threads and support structures are cellulose-based (viscose and thin wood), and the electronic components are free of harmful materials.
So-called "wearable computing" products on the market today shout "technology", are often crudely designed and have a male-oriented sport focus. Because of this, fashion-oriented people, particularly women, may not choose to wear the typical solar jacket or backpack. This collection aims not to hide technology but to disguise it in a beautiful and stylistic way, making it appealing to a new clientele.
By using such accessories, consumers can visibly signal their support for environmental causes without extra effort and without compromising their potentially high standard of fashion. Because they are distinctive and invite conversation, the level of attention to these topics in the public sphere can be increased in a bottom-up fashion, and the adoption of greener practices might become more widespread.
As photovoltaic technology develops, future versions of these accessories could be used to charge a range of portable devices such as mobile phones, music players, digital cameras, and so on, saving the energy that would have been used to charge them by other means.
Awards and Honors
Solar Vintage was shortlisted for the 2007 Scottish Eco-Prize for Creativity in the Emerging Talent category.
Elena Corchero was awarded the Premi professional Tècnic in the Enjoia't 07 Contemporary Jewellery Competition in Barcelona for the outstanding use of technology and craft in her Solar Vintage pieces.
Solar Vintage and earlier works by Elena Corchero are featured in Fashionable Technology, a book by Sabine Seymour that offers "a compact survey of the theory involved and an explanation of the role technology plays in a fabric or article of clothing".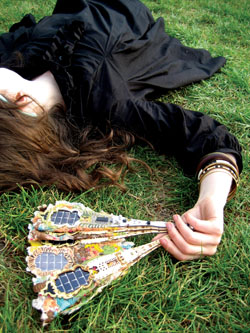 Exhibitions and presentations
Solar Vintage has been exhibited or presented at:
Commercial information
The Solar Vintage collection is available for purchase by collectors, exhibitors, and fashion connoisseurs. Please contact Distance Lab for more information. The collection is available as individual pieces or as a whole and only in small numbers at the present time.
Links
More details about the project can be found on Elena Corchero's web site.
The crown Elena created for the FAD Enjoia't Coronation, Barcelona, 29 May 2008: