Loopin
Elena Corchero, Richard Wilson, Hilary Grant
Loopins are DIY craft kits designed to break down gender stereotypes at younger ages by combining textiles and electronics in a single learning experience.
Loopins are educational build-it-yourself toys that were designed to introduce basic electronics concepts as well as basic textile craft-making within a single learning experience. Traditional stereotypes dictate that boys do electronics and girls do textiles. The Loopin, however, combines these two domains and inspires the young maker about the innovations that can be discovered at the edges and intersections of traditional disciplines.
The finished Loopin's eyes light up when their conductive soft ears are touched together, or to the ears of another Loopin. One of two characters can be made from a single kit (the happy or grumpy Loopin) and the toy can be taken apart and reassembled easily to practice learning the circuitry.
Loopin provides a fun and accessible introduction to electronics, for both boys and girls, and is a great, hands-on craft project, to be enjoyed by all the family.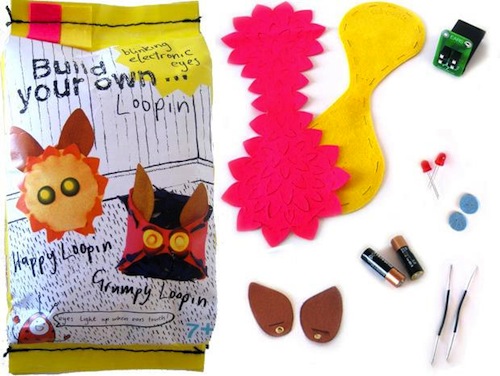 Commercial availability
| | |
| --- | --- |
| | Loopins have been licensed for manufacturing and sale to Distance Lab's first spin-off company, Lost Values. Customers shopping at the Lost Values online boutique can customise the colors of the Loopins they purchase and order special holiday editions. Lost Values also offers Loopins wholesale to retail outlets. The growing list of retailers stocking Loopins includes Magma and the Saatchi Gallery. The product is CE-marked. |
Loopin workshops
In addition to producing the Loopin DIY kit, Distance Lab and Elena Corchero have delivered numerous Loopin workshops at schools, science festivals, and other events.