LocalSoundScapes
immersive audio recordings that reveal local activities
Costas Bissas
In rural and remote areas, many local activities go unnoticed by passers-by because of their physical dispersion over large areas. LocalSoundScapes is a collection of immersive audio recordings that collapses this geographic dispersion and allows the listener to discover the richness of rural activity and production.
LocalSoundScapes is a collection of geography-specific audio recordings created from the activities and processes of local businesses and their surrounding natural environment. The recordings reveal otherwise inconspicuous practices of everyday life and moments from the creation of various products.
Because these recordings were captured using binaural microphones, listeners wearing headphones will experience an immersive three-dimensional effect from the perspective of the rural inhabitants that participated in the project.
By clicking on multiple markers, playback from multiple points will become overlapped, inverting the geographical dispersion and creating a soundscape from individual rural activities that resembles the density found in an urban environment.
The recordings featured in the project were captured from the greater area of Forres in the Highlands of Scotland. Many of the featured businesses produce and sell from their premises, allowing visitors to immerse themselves into their processes.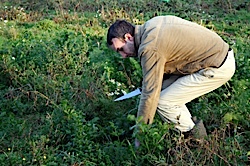 LocalSoundScapes was created by Costas Bissas shortly after finishing his term at Distance Lab, using equipment, techniques and results generated in the neuromantic project. Additional support was provided by ElectroSmog. We are interested in working with communities and cultural organisations in different areas of the world to create revisions and variations on this experience for other scenarios. Please contact Costas Bissas or Distance Lab for more information.
Exhibitions
LocalSoundScapes was featured at the ElectroSmog International Festival for Sustainable Immobility, 18 - 20 March 2010.
Links
LocalSoundScapes web site (Note: For the best experience, please wear headphones and use the Firefox browser instead of Safari on a Macintosh.)