@Hand
supporting carers in their caring role
Andrea Taylor, Richard Wilson
In the UK, a carer is someone who, unpaid, looks after a family member, friend or partner who could not manage without them because of frailness, illness or disability. Carers can play a crucial part in someone's overall care, but their role is often not acknowledged by the traditional health system. @Hand is a new monitoring system designed to support carers in their caring role. The device allows carer and cared-for to share personal health information in a lightweight fashion, possibly over a distance.
The delivery of healthcare is changing in response to an ageing population, the growth in long-term conditions, and the rising trend in emergency admissions to hospital among older people. Up to now, healthcare has been hospital-centred and reactive, with the patient as passive recipient and informal carers undervalued. The evolving model of care emphasises care in the community and self-care, with the patient and carers supported as partners.
Self care is about supporting people to take more responsibility for their own health and well-being. There is evidence that self care support can result in beneficial health outcomes for people, lessening the demand on healthcare systems, and that people are interested in being more active self carers.
@Hand is a simple home health monitoring device that allows people to record, track, and share personal vital signs (e.g. weight), mood, and calendar events (e.g. doctor appointments). Information is entered and displayed on an 8-inch colour touchscreen that can be placed anywhere in a household. A single unit can be shared by both an individual and the carer, or separate units can be connected over a distance.
@Hand differs with current home monitoring systems in that it is intended for use within informal support networks, connecting an individual with their carer rather than with a professional paid care worker such as a doctor or nurse. However, it is possible to email the health data captured in the device to a professional if desired. The device could be made available via the health service or insurance companies, or it could be obtained independently.
Three in five people will take on an informal caring role in their lives. For example, you may take care of your mother or father in their old age, or you may take care of a friend with a chronic health condition.
Caring can be stressful, particularly as the carer's role is often ignored by health professionals, and has an impact on the health and well-being of the carer. Carers who provide substantial care are more than twice as likely to suffer from poor health compared to those without caring responsibilities. The costs associated with carers' ill health include the direct cost in treating the carers' own health problems and the indirect cost to the state (or insurance provider) if the carer is less able to provide care. Thus it is important to involve carers in the healthcare of the person they look after as well as to support carers to keep well themselves.
To this end, @Hand supports the carer to participate in the same gathering and tracking of information about their own health, together with the information about the person they care for. Participating together may also increase the level of motivation of both the individual and their carer to engage with the system over a longer period of time.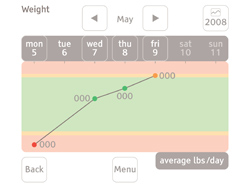 The development of @Hand was informed by a study that captured the thoughts and experience of carers in the UK. We have built a working prototype of @Hand are are now undertaking small-scale trials. Please contact us if your organisation or company would be interested in supporting a larger-scale trial or would be interested in purchasing a system like this for distribution to your clientele.
Publications
Andrea Taylor, Richard Wilson, and Stefan Agamanolis, Supporting Carers in Their Caring Role Through Design and Technology, CHI 2009 Extended Abstracts on Human Factors in Computing Systems, Boston, 4 - 9 April 2009, ACM Press. (PDF)
Andrea Taylor, Richard Wilson, and Stefan Agamanolis, A Home Health Monitoring System Designed to Support Carers in Their Caring Role, Proceedings of eTELEMED 2009 International Conference on eHealth, Telemedicine, and Social Medicine, Cancun, Mexico, 1 - 7 February 2009, IEEE. (contact us)